To celebrate St. Patrick's Day tomorrow Colts, remember to wear all the green and gold you can! The cafeteria ladies are wiping up leprechaun pancakes with sausage for breakfast and pot of gold macaroni & cheese for lunch. It is always a LUCK day to be a Colt!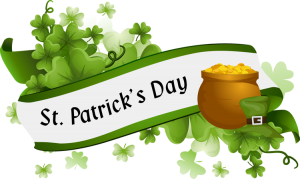 Happy Monday Colts, as promised here is our weekly Colt Express. Wednesday is St. Patrick's day so wear all your green and gold! Also this Thursday and Friday are parent teacher conferences and minimum days with 1pm dismissal time!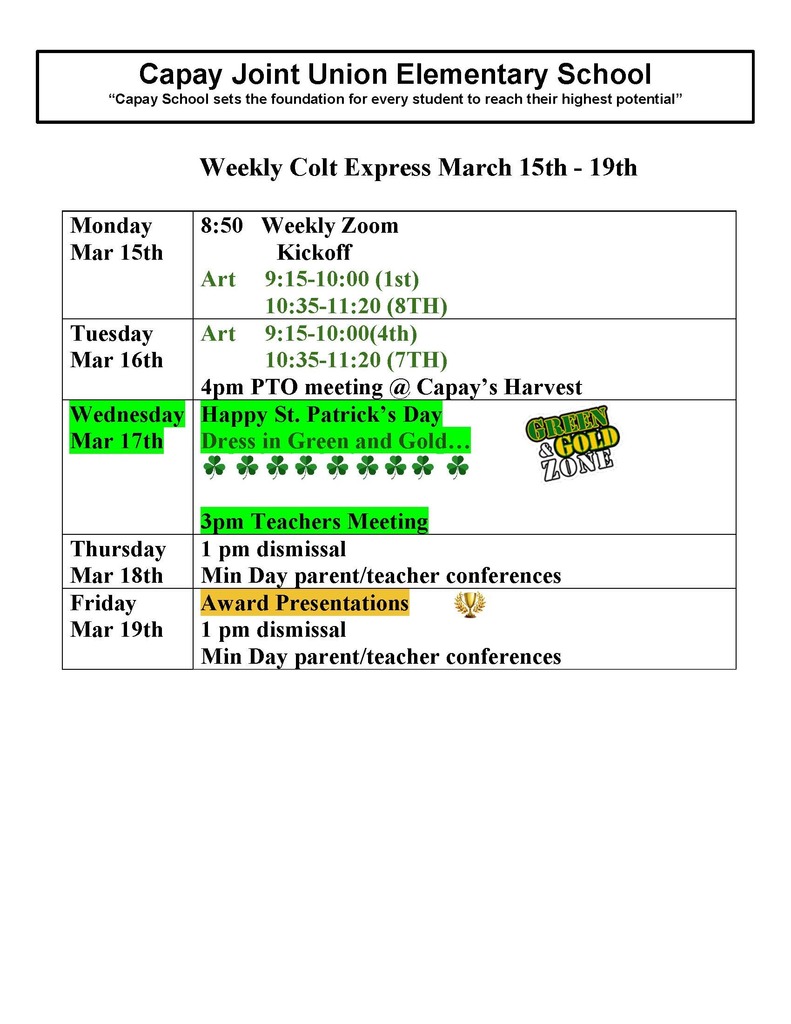 Here is a peek at the weekly Colt Express, March 8th - 12th! We would like to give a big -THANK YOU- to all the family's that helped support our book fair!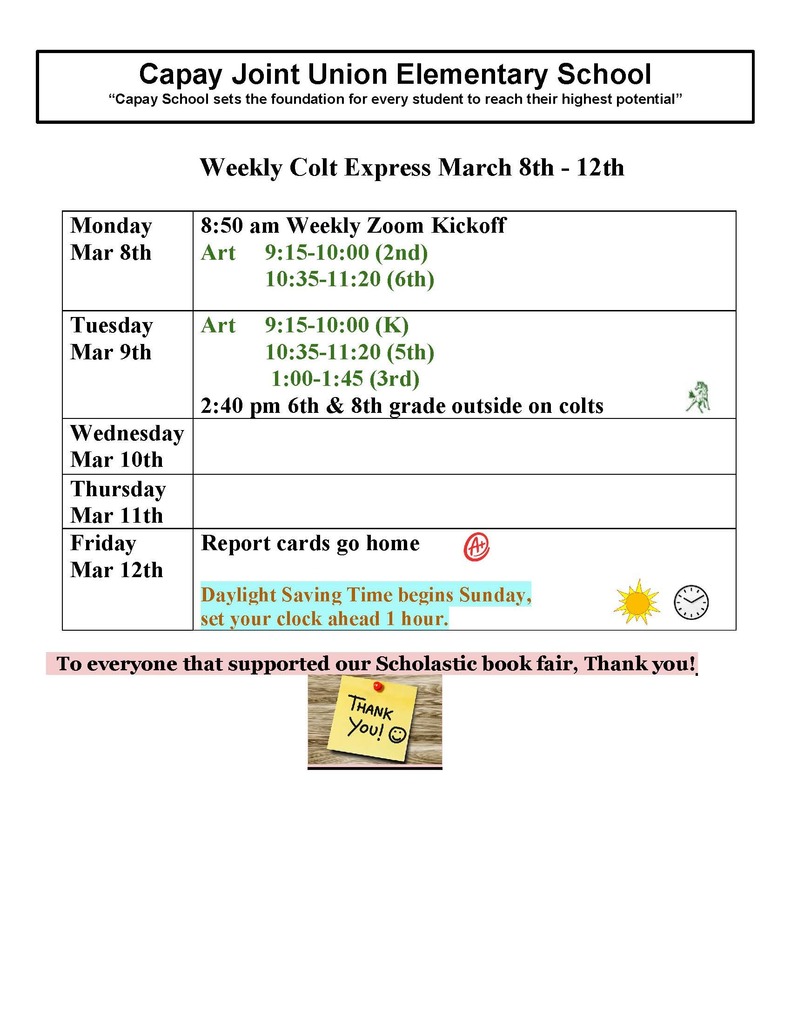 Mrs. Frizzle and her fourth grade class of characters really showed their love of books yesterday! Go Colts!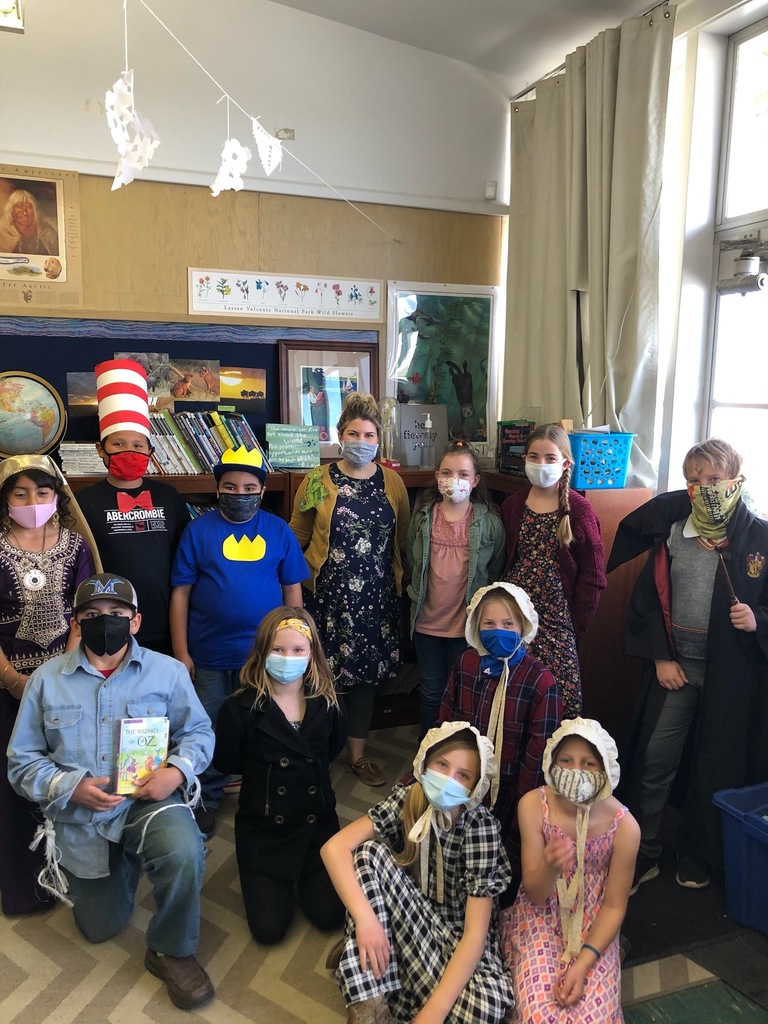 It's always a good day when Dr. Seuss is on campus.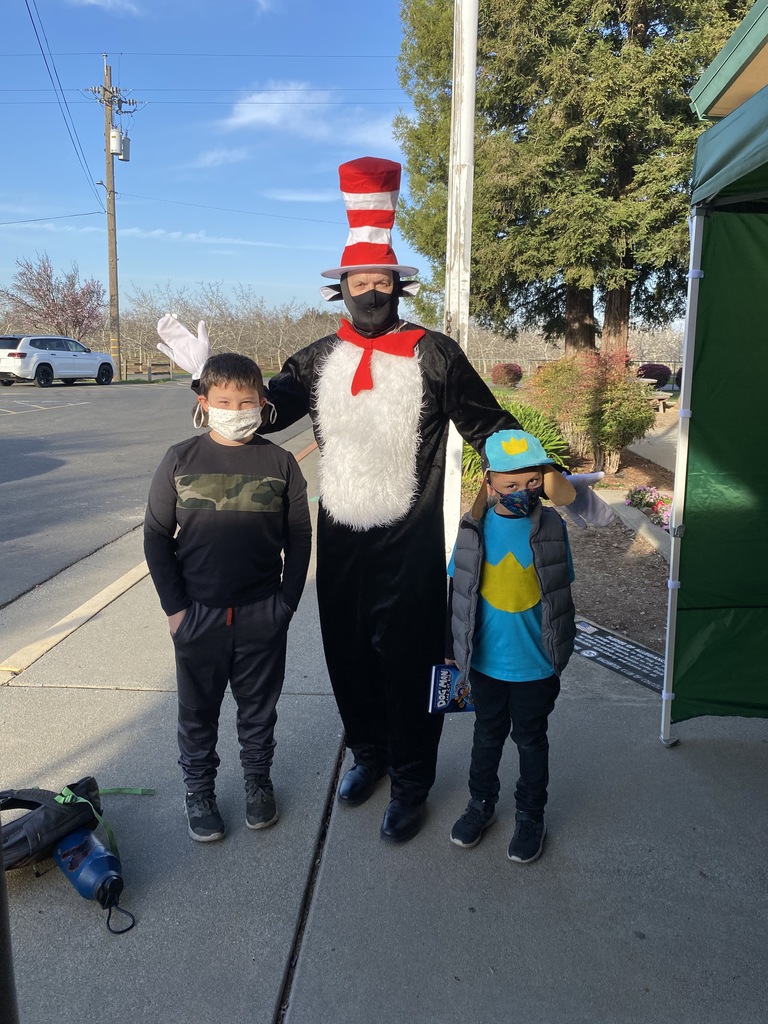 Welcome the first week of March, it's a busy one!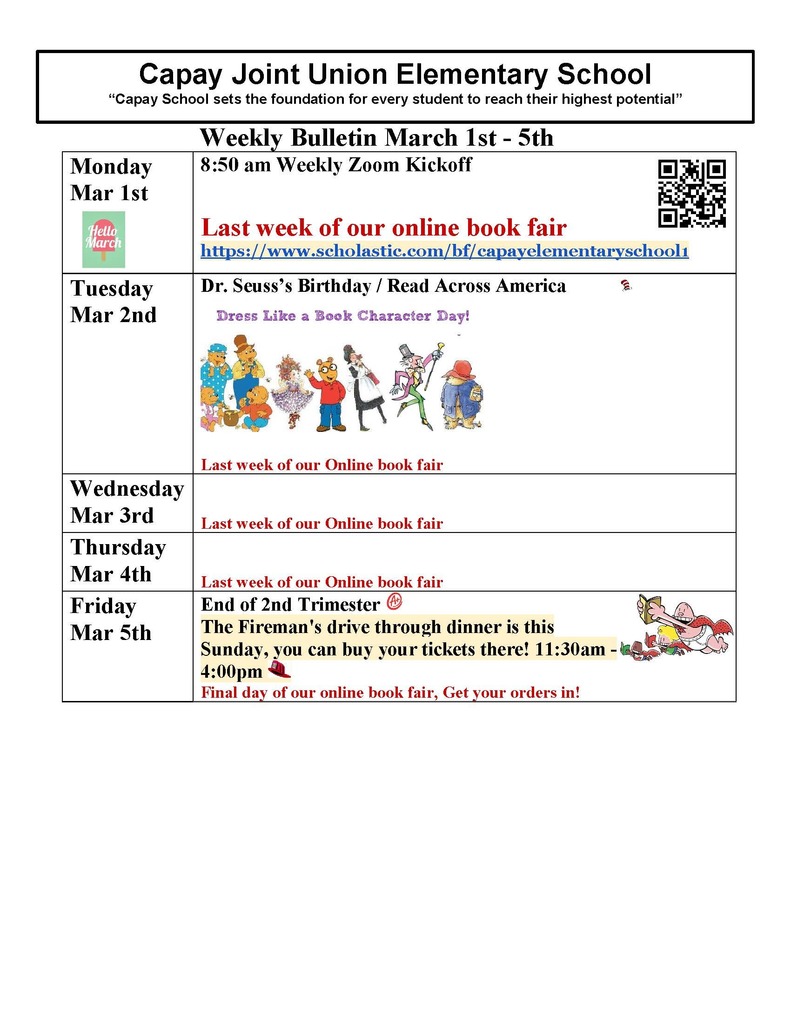 Don't forget tomorrow, 2/26 is our picture make-up day! Wear your smiles!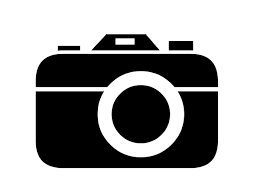 This week is in full swing.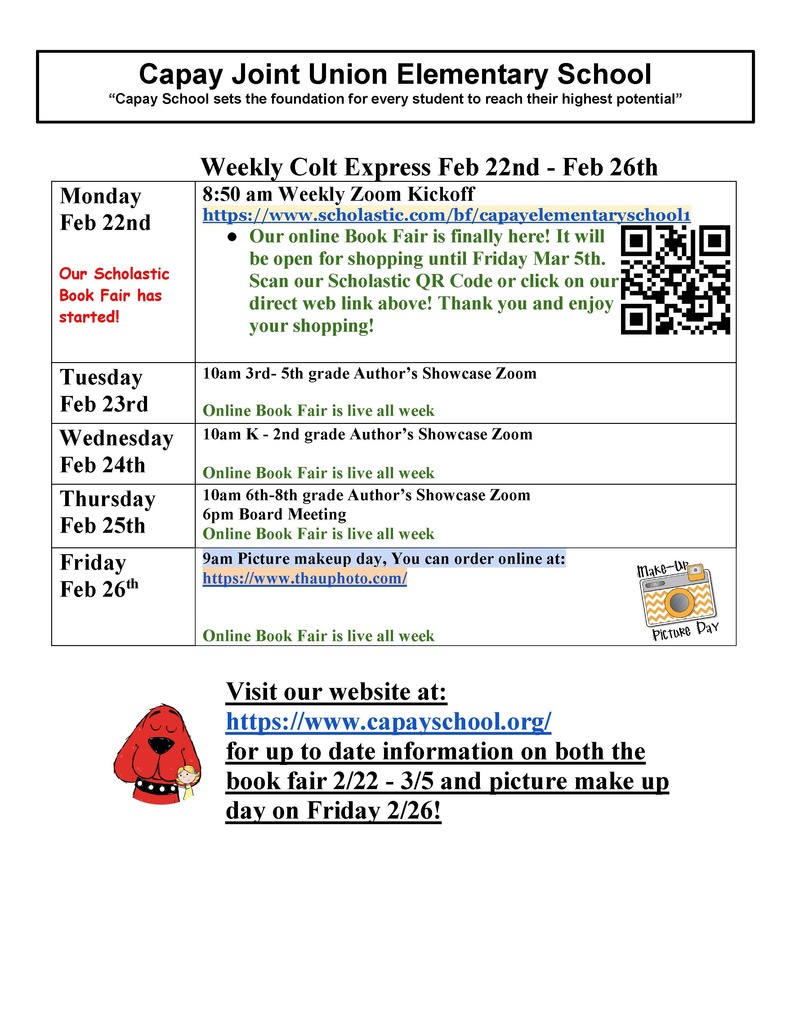 Here is our weekly Colt Express. On here you will get good information on our Scholastic Book Fair, the goals we set for this year, and some direction to our Scholastic website to order! Please stay tuned for catalog's and flyers!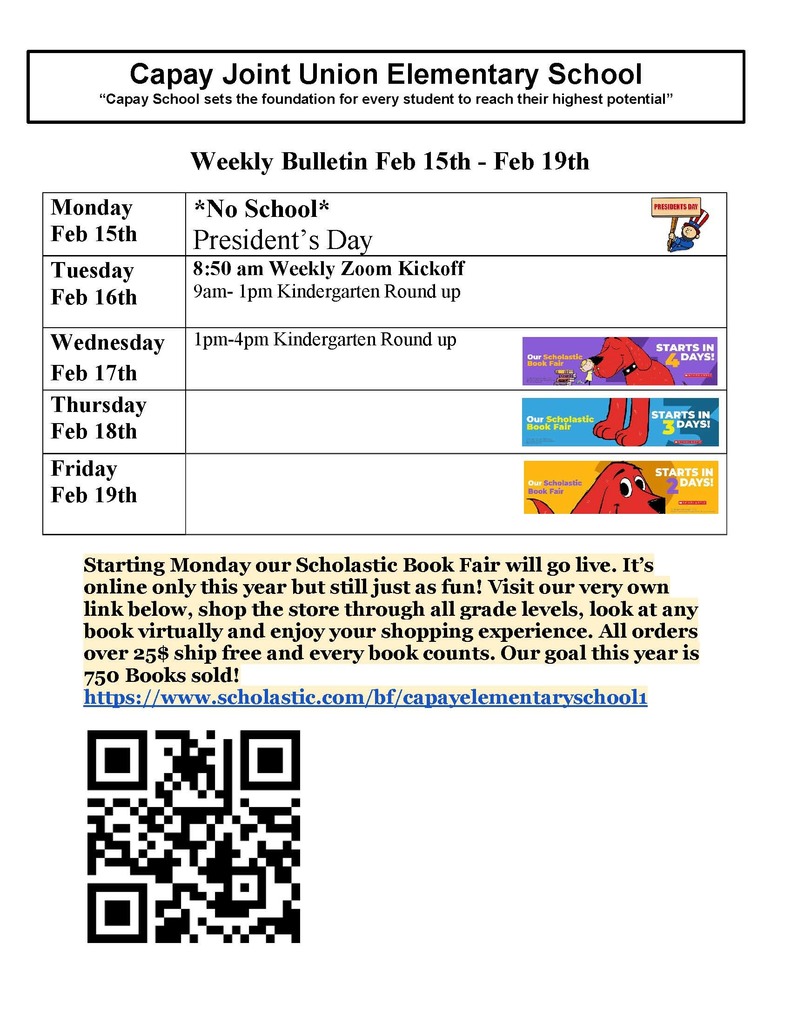 Capay Colts Weekly Colt Express, Feb 8th - 12th

Happy February Colts, We have pictures of our wonderous hundredth day of school! It looked a little different this year but it was still a ton of fun!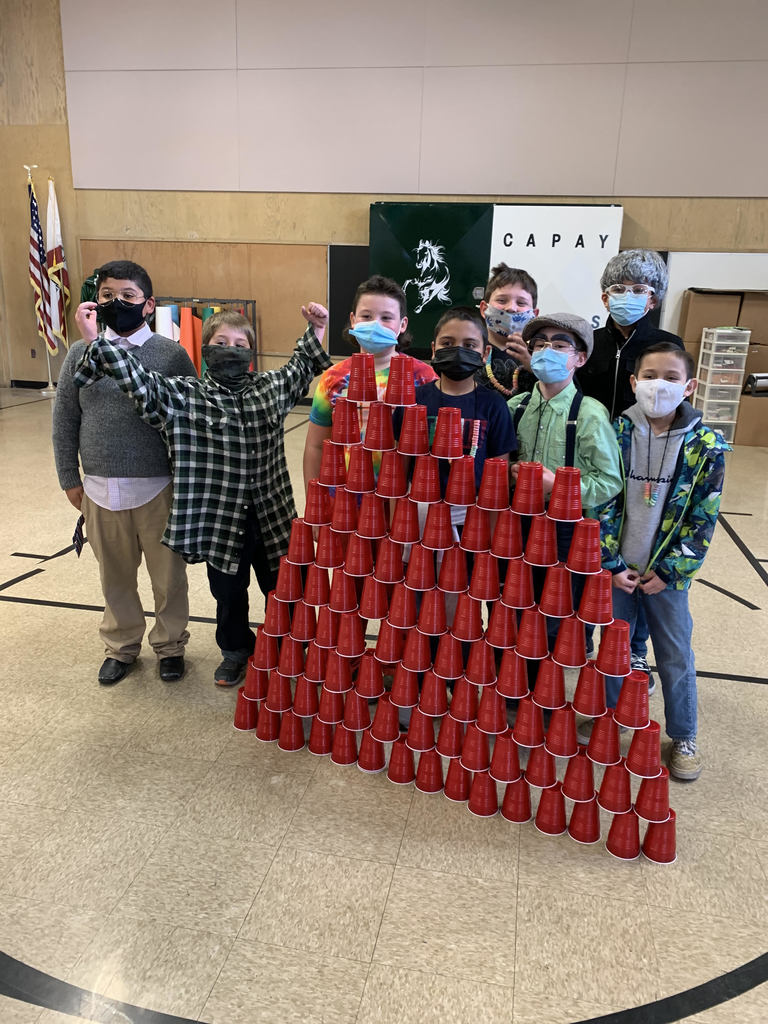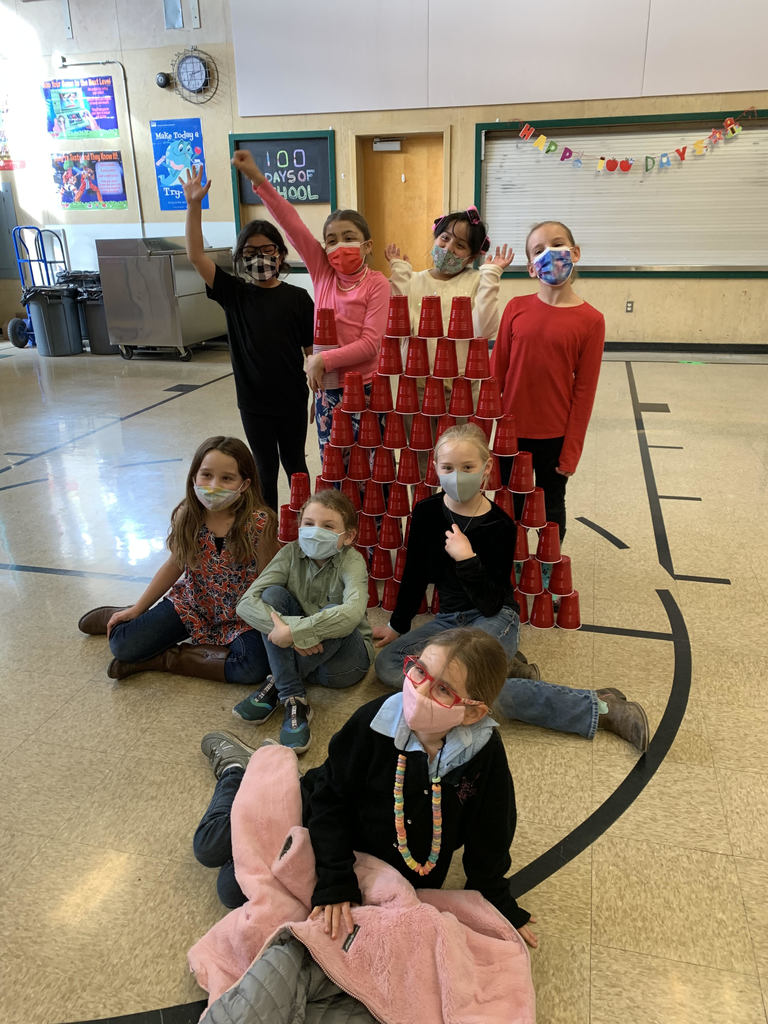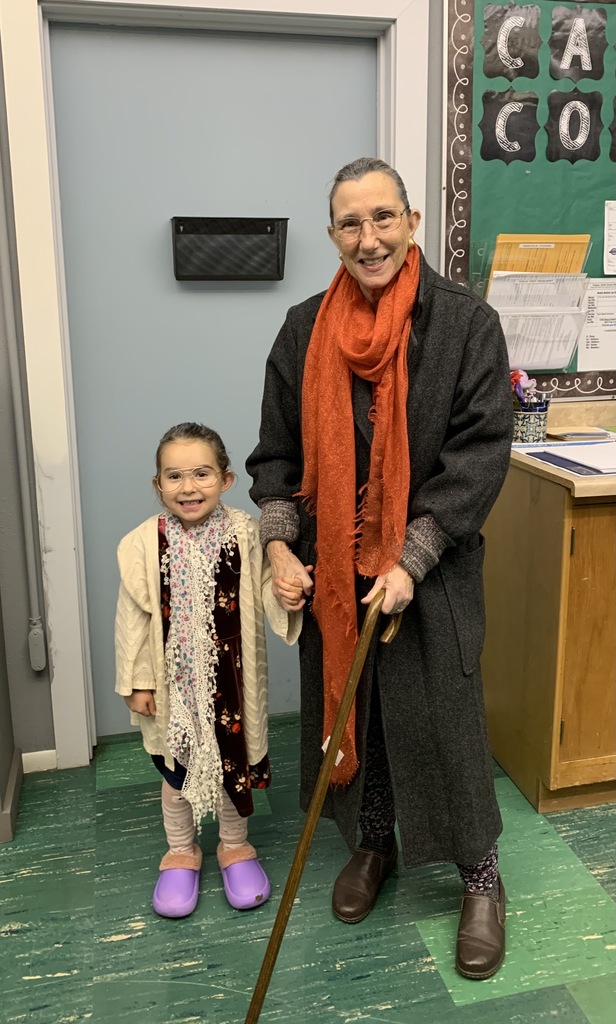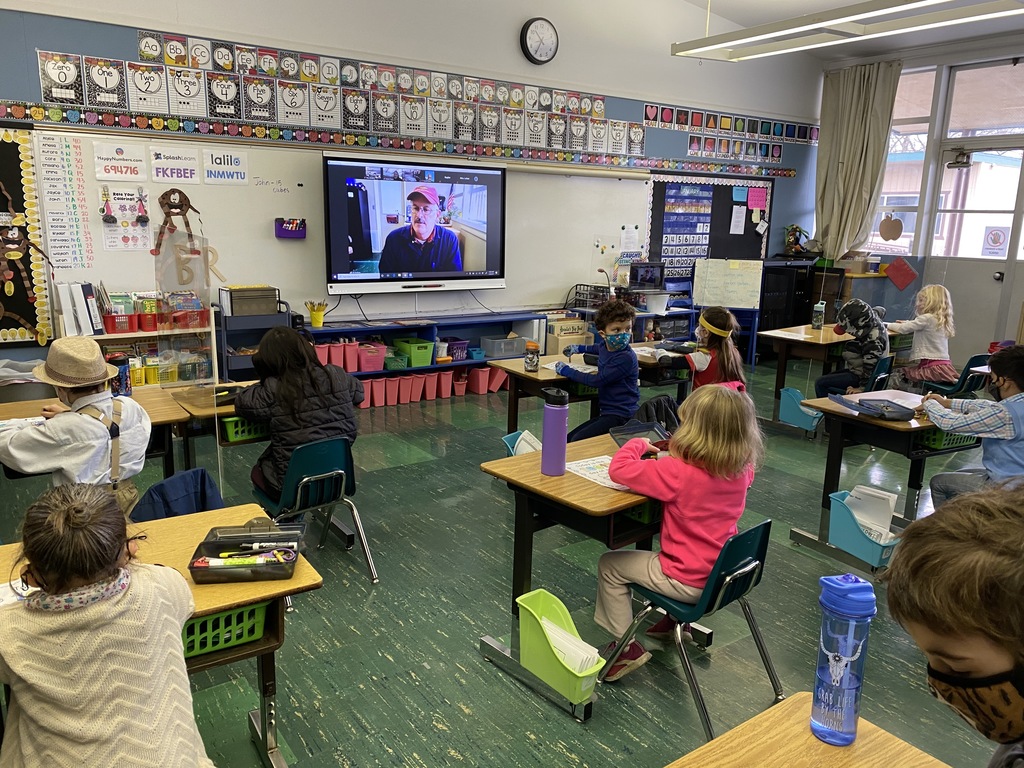 Welcome February! Things next week just look lovely!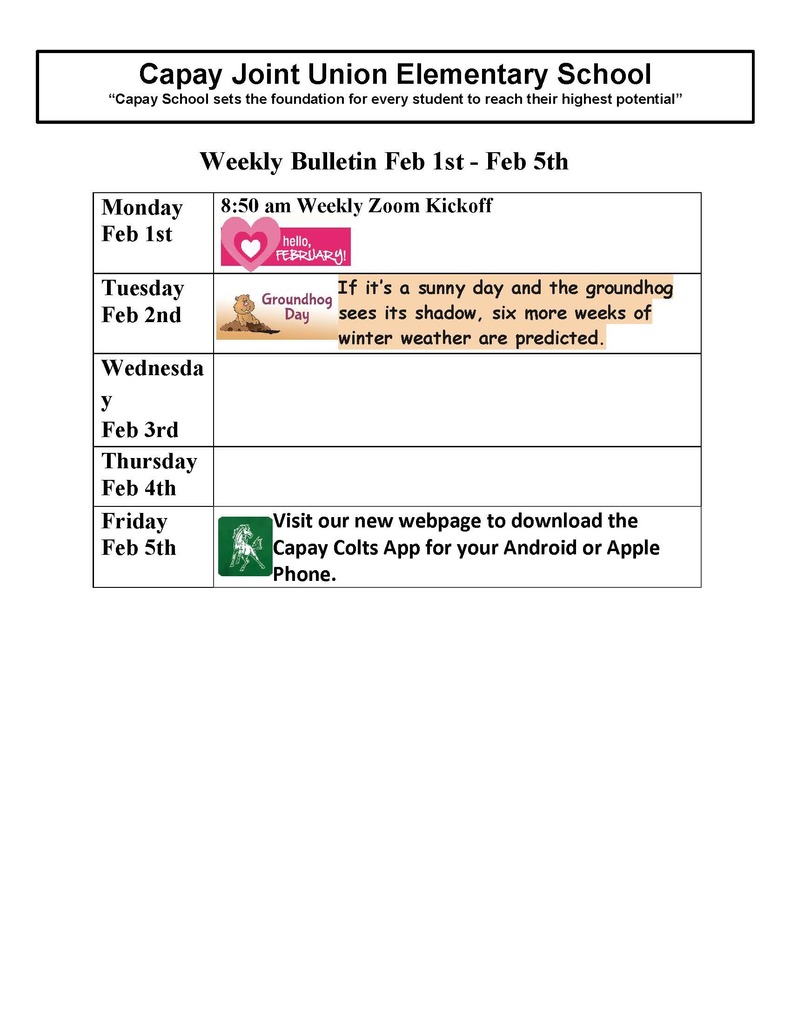 Look what's cooking for the Month of February!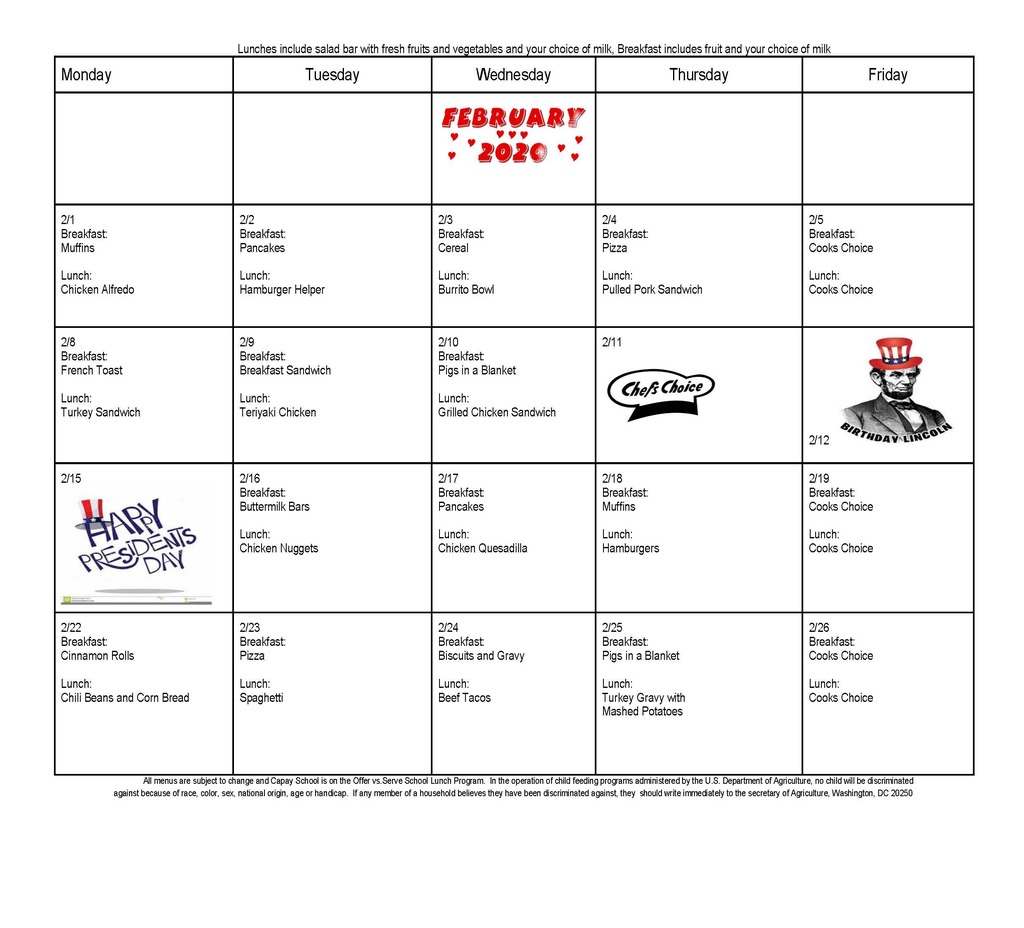 Come have a flipping fun pancake breakfast and a side of sausage in the cafeteria tomorrow morning to help kick off the 100th day of school. We hope to see all of you 100yr old kids and your big appetites! Go Colts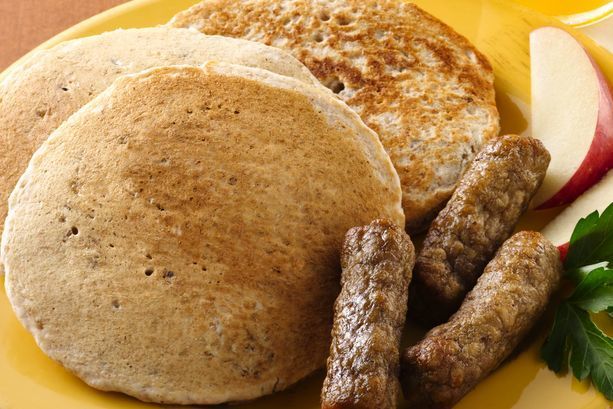 Reminder, this Friday is the 100th Day of School Celebration! Dress like your 100yrs old and get ready for some fun! Pancakes for breakfast & Corn dogs for Lunch, plus in class activities, and a special zoom with Mr. Scribner!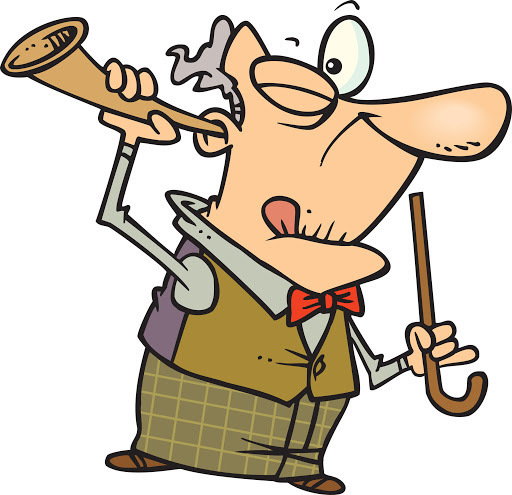 It may be stormy the rest of the week, so we appreciate your patience during pick up and drop off! The procedures are the same, but it may take a bit longer due to weather. Thank you for your cooperation as we want everyone to get home safely!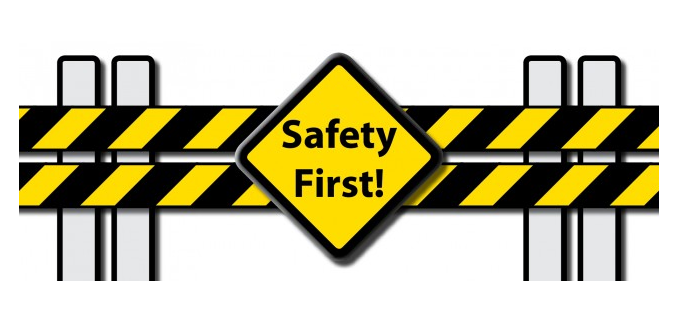 Here's a peek at the week ahead. Friday Jan 29th we'll be celebrating our 100th day of school! To be in the 100th day spirit, all our students are invited to dress up like they are 100 years old!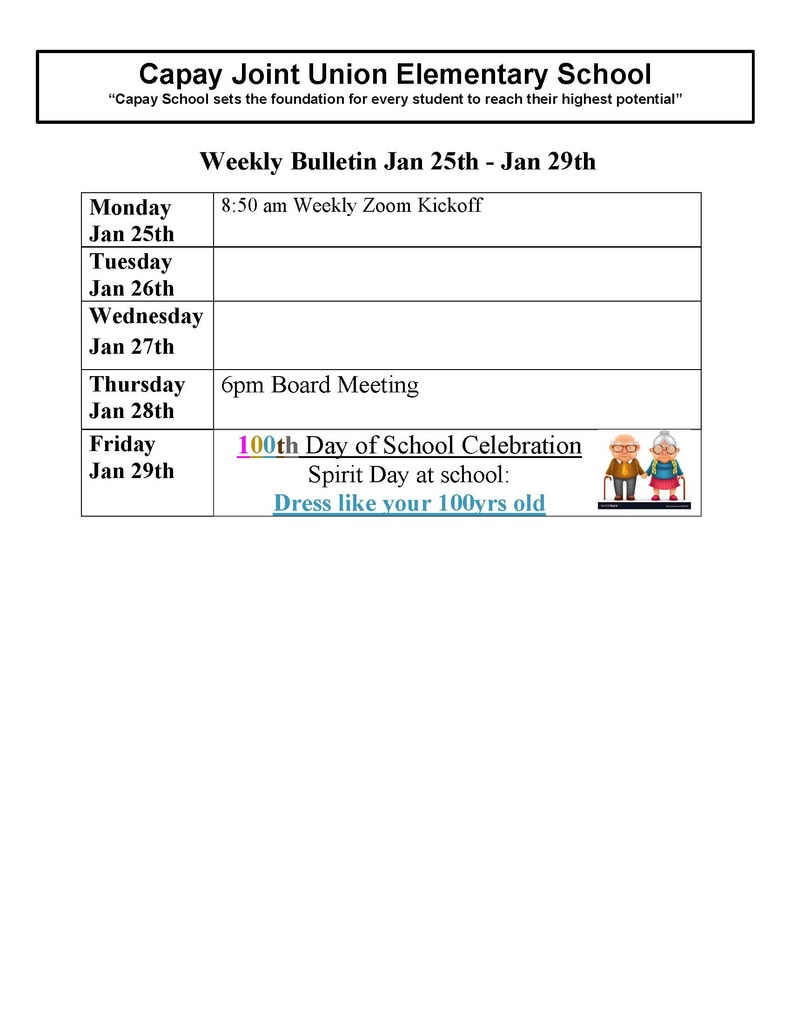 The Scholastic book fair is a virtual experience this year. The Fair will be two weeks, starting Monday Feb 22nd running though Friday March 5th. Visit our Online Book Fair between these dates @
https://www.scholastic.com/bf/capayelementaryschool1
& enjoy your shopping!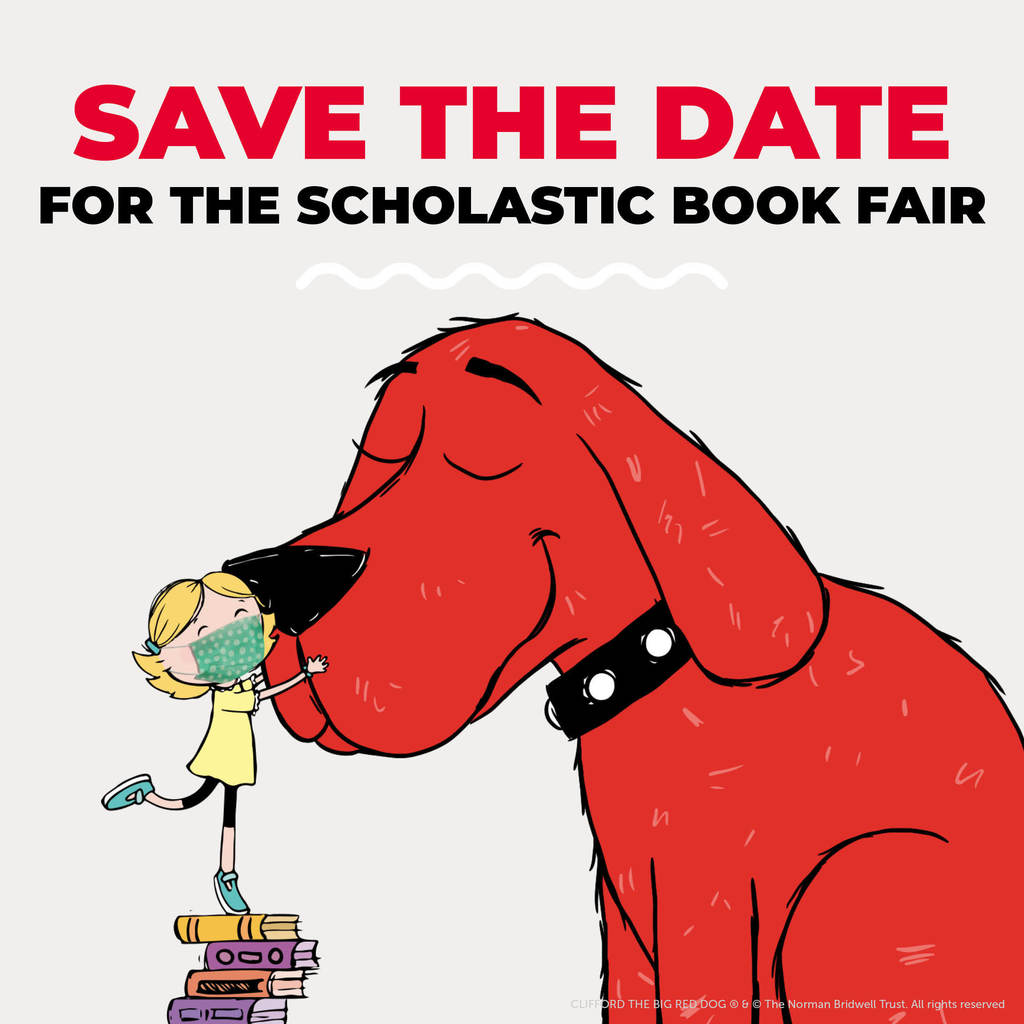 Hey Colts every week we will post our Weekly Colt Express, this is a look at the week ahead.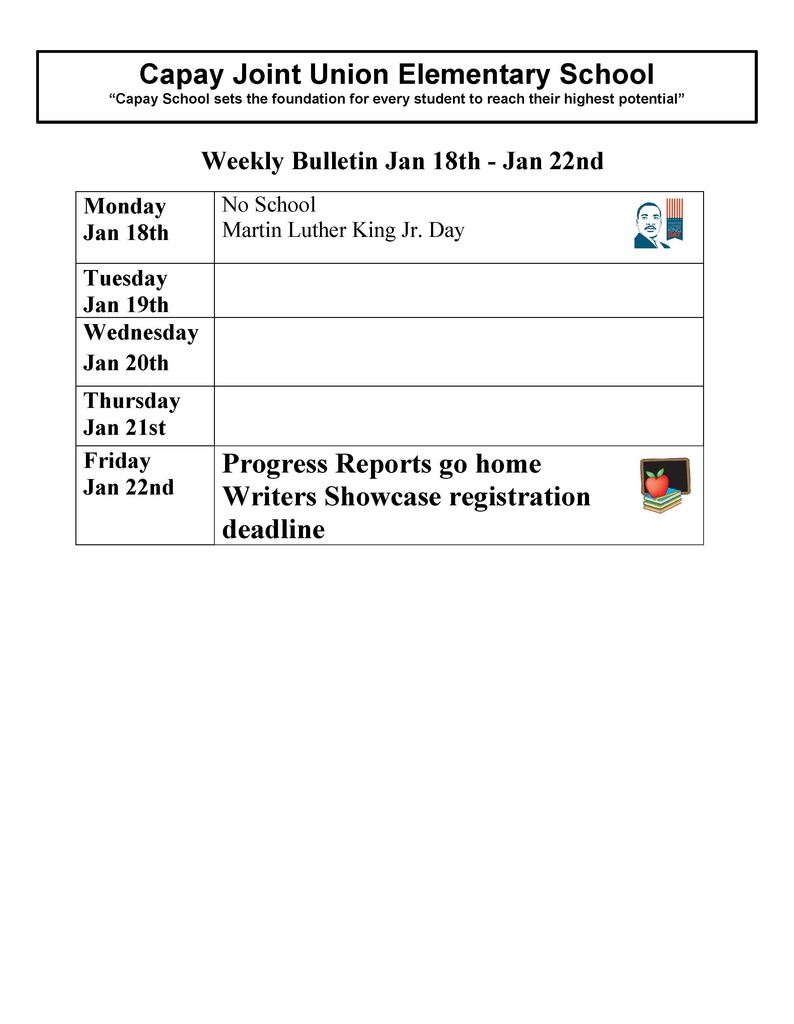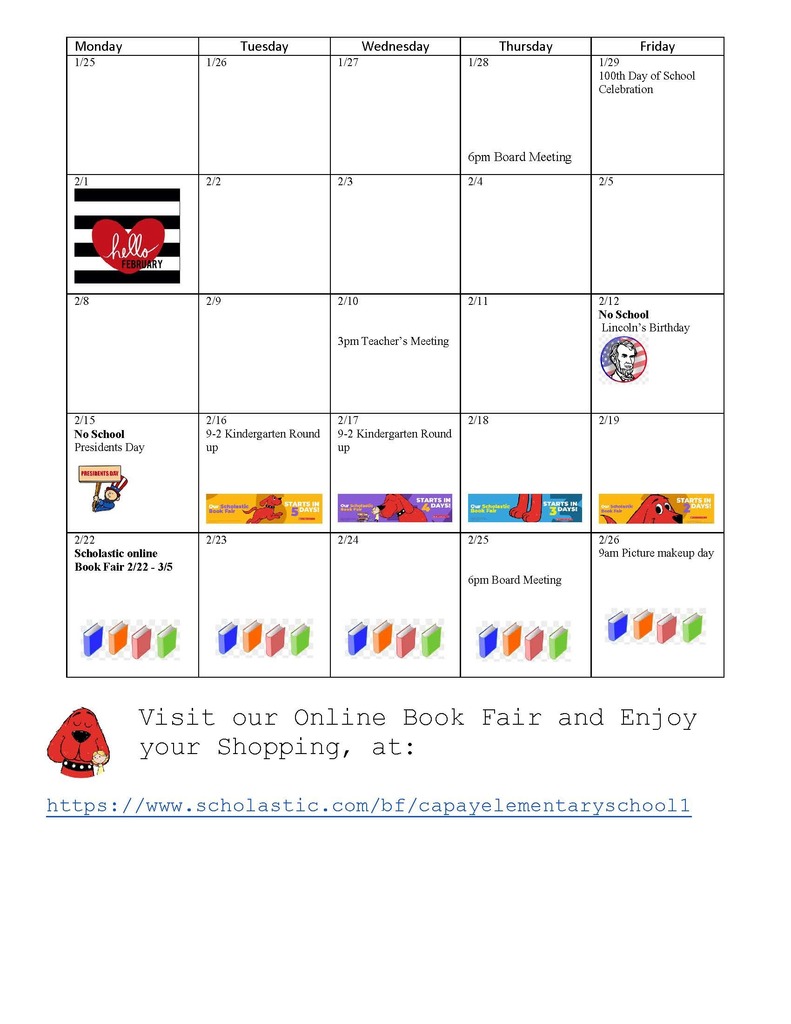 Hey Capay Colt family's, ever wonder what happened to collecting box top$? Your shopping can make a difference, by downloading the boxtop$ App. Download from the App store or Google Play, create an account, link to Capay Joint Union Elementary School and just by snapping a photo of your receipt at check out your school earns money!
https://www.boxtops4education.com/Consumer-Logged-in-Landing-Page